5 Reasons to Invest in a Content Marketing Strategy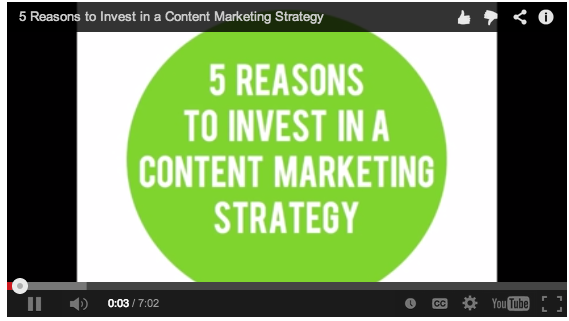 On Sunday, November 17, 2013, we held a webinar on the five most important reasons to invest in content marketing. We've posted a recording of the session below. It is a good introduction to content marketing that will be followed by a webinar on content marketing strategies for small businesses and start-ups on Saturday, January 4, 2014 at 1:00 PM MST. We will discuss ways that any business owner, or team member, can contribute content with a very small investment of time. The recording will be posted on our blog.
Background
Some people refer to content marketing as the latest buzzword in marketing, but content marketing has been around for centuries. The options businesses have for implementing a content marketing plan diversified with the emergence of digital technology, so it seems new. Take a look at Content Marketing World's visual overview of the history of content marketing, and you will see how it has evolved over the years.
Content marketing is an excellent way to grow your business on a shoestring budget. There are many options for using free digital media tools to connect and engage with your clients and earn the business of new clients. According to the Content Marketing Association, "Content is the driving force and foundation of all media, and brands have the opportunity to harness this power to fully engage with their customers. Whether it's video, print, online, mobile or app, the platforms may develop, but the role of content is constant: to grab a customer's attention and persuade them to take action."
Webinar Recording: 5 Reasons to Invest in a Content Marketing Strategy